Help preserve this iconic RCAF aircraft
Vampire Pavilion
Fundraising Challenge!
A challenge has been set by 19 Wing Honorary Colonel (HCol) Quartermain to match your donations to the Vampire Pavilion project. For every $100 (a $1 for every year of RCAF history) you donate from July 20, 2023 until November 12, 2023 HCol Quartermain will match the same amount. Help us reach our goal of housing the Vampire for all to see!
Challenge goal $50,000

100%

100%
How to donate
Donations under $5000 can be made in person at the museum by cheque, cash, credit card or debit or online by clicking on the button above. Donate to CAFM RCAF 2024 Projects.
For more information on donations above $5000 or to donate gifts in kind, please contact
Andy Moorhead.
Andy.Moorhead@forces.gc.ca
250-339-8211 x 8246 
All donations will be eligible to receive
a tax receipt.
Total raised to date – Goal $1 million

50%

50%

Architectural drawings courtesy of Tom Dishlevoy Architecture Ltd.
November 12, 2023
We did it!
The final donation tally for the Vampire Pavilion Challenge set by Honorary Colonel Quartermain is $50,227. With HCol Quartermain's matching pledge we have added $100, 227 to the RCAF 2024/Vampire Pavilion fund and we are now half way to our total fundraising effort. A huge thank you to all who donated from HCol Quartermain and everyone involved with this project at 19 Wing, the Museum and the Association.

More updates on construction and further fundraising will be coming soon.
July 20, 2023
Groundbreaking ceremony
Today marked the official groundbreaking for the Vampire Pavilion! It was an exciting day for all involved. A special THANK YOU to all who are supporting this project.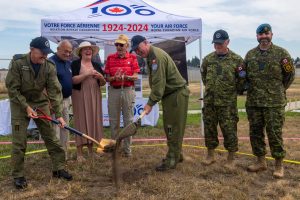 Breaking ground. (L-R) 19 Wing Honorary Colonel Quartermain, Project Lead David Mellin, Member of Parliament Rachel Blaney, Colonel (Ret'd) Syd Burrows, 19 Wing Commander Colonel Gagnon, 19 Wing Chief Warrant Officer Farr, and Vampire Pavilion Committee Lead Major Stevens. Credit: S1 Brendan Gibson, Canadian Armed Forces Photo.
January 2023
Vampire Pavilion
To mark the 100 year anniversary of the Royal Canadian Air Force in 2024, 19 Wing and the Comox Valley Air Force Museum Association are fundraising to construct a pavilion to house the DeHavilland Vampire Mark III, tail number 17031. The aircraft is currently being stored on the Base away from public sight.
Be a part of bringing this iconic aircraft back into the public eye for all to see. We are seeking your financial support to raise $1 million to facilitate the construction of a pavilion in the Comox Air Force Museum Heritage Air Park.
The 1948 DeHavilland Vampire Mark III, 17031, was taken on to the Public Account of the Comox Air Force Museum at 19 Wing Comox on 5 May 2000. Arriving in flying condition it was declared an artifact in February 2001. Impossible to store outside due to its unique wooden construction it has been kept in a hangar since its arrival.
It is time to put the Vampire on display.